Hello again! Today we would love you to meet an amazing little girl and her family. Meet rainbow baby Emilia…..
Emilia and her family have quite the story to tell. Her parents, Josh and Courtney are simply amazing. I asked them to tell me about their journey, loss, and blessing of Emilia. Here is an excerpt from Courtney:
" It was my first pregnancy and we were really excited. It had been difficult and I had given up when it just finally happened on its own after 2 1/2 years.
I even surprised Josh with a onsie that said "I'm told I love baseball" as we're big baseball fans and the shock and excitement was priceless. But it was just about a week later that I ended up miscarrying around 8 weeks… still early but still a loss and was heart breaking. It put me in a really negative head-space and that can be hard to overcome."
It was another almost 3 years before their rainbow baby, Emilia would come in to bless this world.
For those that are wondering, a rainbow baby is one that is born after a miscarriage, stillbirth or any type of infant loss. Approximately 1 in 4 women experience loss, and for a long time these tragedies were not spoken of. We are trying to change that stigma, bring awareness and surround these families with love. We want them to know they're not alone.
Baby Emilia's journey has not been an easy one.
First, at 12 weeks doctors confirmed she has Trisomy 21 – Down Syndrome. Then at 19 weeks they confirmed she would need heart surgery after birth. As a result, she was born at 26 weeks and 6 days. After that, she spent 176 days in the NICU and had 2 surgeries all before she was 4 months old.
Courtney recalls, "At each appointment before she was born, doctors recommended termination. Our faith kept us going, and we can't imagine our journey any other way."
We decided to capture this miracle baby as close to newborn style as possible. Her scar and rainbow baby status were featured. Emilia and her family are warriors and we wanted to celebrate them.
Here to make her photography debut, please enjoy the gorgeous 7 month old rainbow baby Emilia: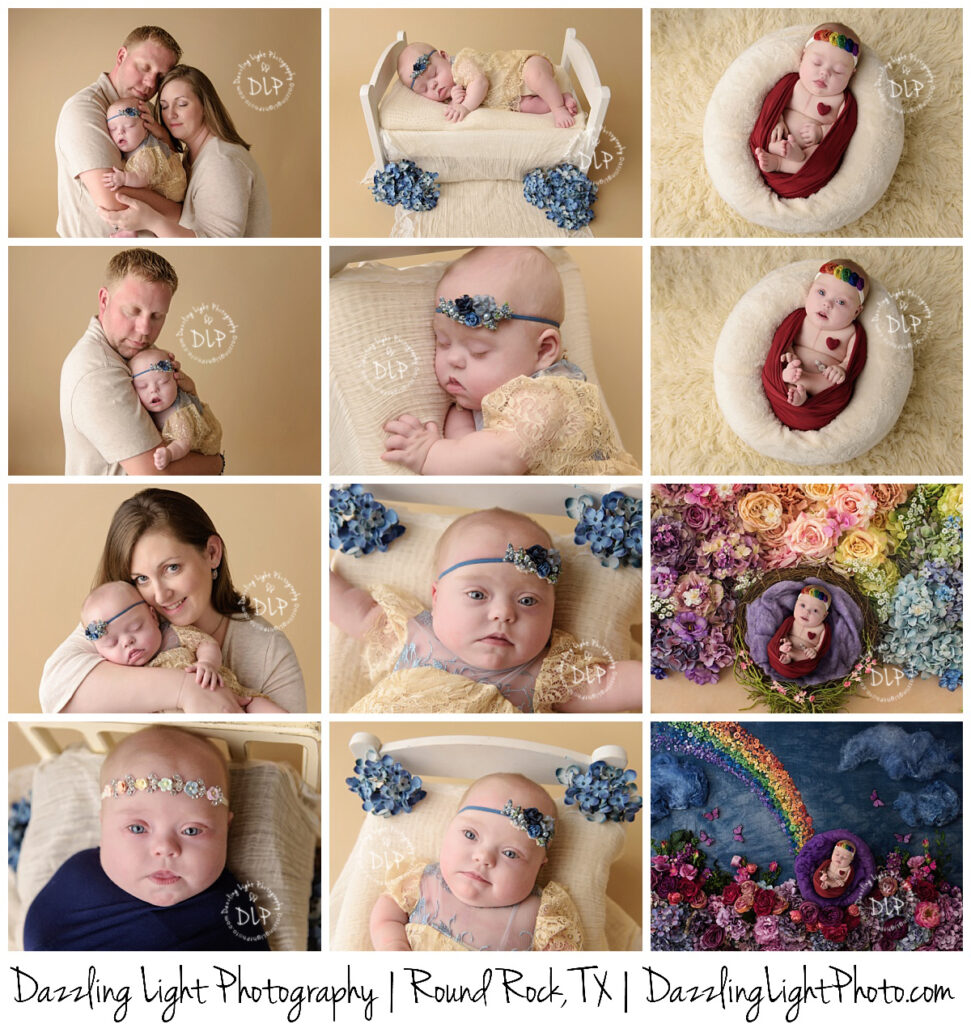 Thank you to Josh, Courtney and Emilia for allowing us to capture their family, share their story and be a small part of their amazing journey. We look forward to seeing Emilia grow!
If you or someone you know is expecting a rainbow baby, we invite you to nominate them. Share the story HERE.
Dazzling Light Photography | 512.508.9067 | DazzlingLightPhoto.com
[email protected] | Check out our Facebook page!