Hey, everyone! Thanks for stopping by today – we're glad to have you here!
It's hard to believe that this was our 4th time photographing the very sweet baby Peyton. It was so exciting to see her for her cake smash! We still remember just how tiny she was when we photographed her during her newborn session.
We seriously cannot put into words just how much we looked forward to photographing this young lady over the last year. Every session, she had changed so much, and the same is true now that Peyton is a whole 12-months old! Mom says Peyton is already walking and running all over the place. Crazy how fast they grow up, huh?
Peyton's personality really shown through as we captured her Lifting Head and Sitter milestone sessions. Just look at those eyes! What a happy little lady.
Mom and Dad brought a few keepsakes to incorporate into each of these sessions, including a special ring that was Peyton's grandma's, a beautiful rocking chair, and an adorable custom made teddy bear. How special is it that Peyton and her family now have these items captured with her growing up? These cherished items will live forever!
Peyton's Cake Smash
We added a cake smash to Peyton's session as well. Mom wanted to incorporate Sweet Peas into the session, so we based both sets around those flowers and the colors done throughout her first year. We even had our baker add sweet peas to the cake as a surprise, and it's safe to say Peyton loved her cake.
And with that, check out Peyton's 12 month cake smash session: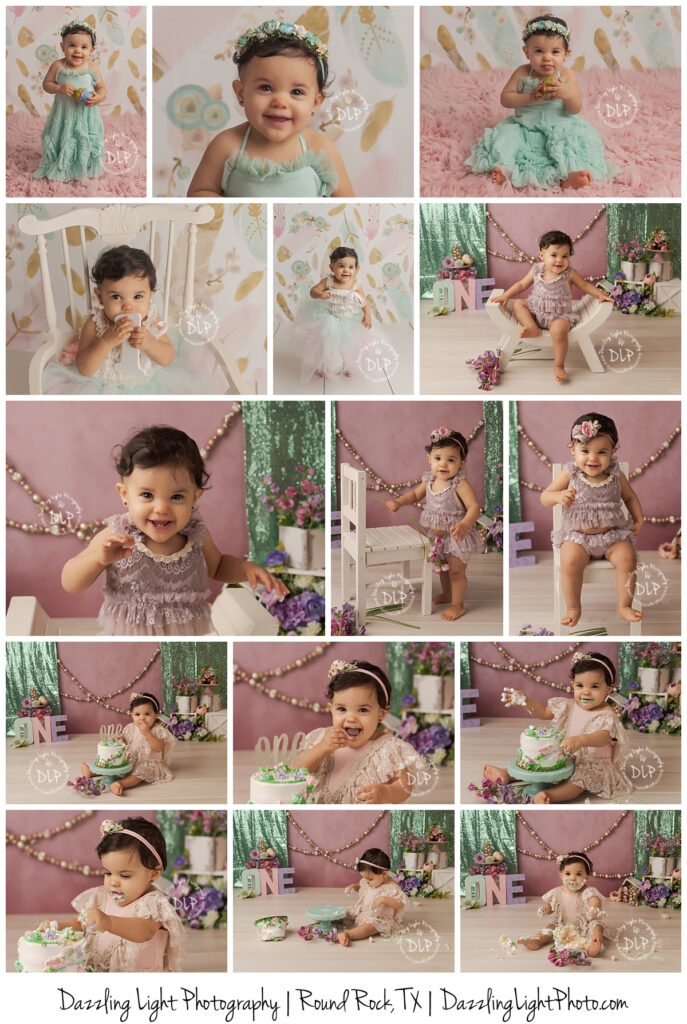 It's truly been our honor to photograph Peyton through her first year and we look forward to seeing her again soon!
Want to learn more about our milestone sessions? Check out all the details here.
If you or someone you know is looking for artistic newborn or children's milestone photography, please contact us today to start your customized session!
Dazzling Light Photography | 512.508.9067 | DazzlingLightPhoto.com
info@DazzlingLightPhoto.com | Check out our Facebook page!