Welcome back! We were overjoyed for this couple to come in for a stunning – and terribly sweet – studio maternity session.
We were so excited to work with the Larson family in celebrating becoming parents. Jessica and Kyle came to us all the way from San Antonio for their studio maternity session to capture these moments.
Dad was a total loving and supportive rock star the entire time. There was a moment when he kissed momma's forehead – it was so sweet. We knew it would be one of everyone's favorite portrait!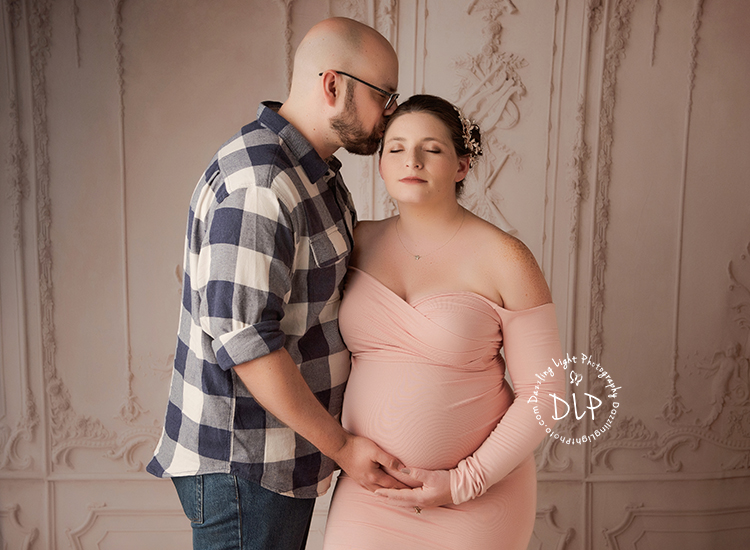 Mom wore 3 gowns from our client closet during her session. She loved black and white images, so we used 1 black, 1 white, and added in 1 soft pink to coordinate with their upcoming newborn session. She was absolutely stunning in every single one!
Mom and dad brought an ultrasound image of baby as well as an adorable pair of shoes. We cannot wait until their bundle of joy joins us for their newborn portraits.
Until baby girl is here, check out the rest of this gorgeous family's studio maternity session:
They're going to be an amazing Mom and Dad duo. We look forward to capturing many moments when their little bundle arrives through our Keepsake Collections Baby Program. Check out the details on that HERE! Thanks again and congrats, you two!
Ready for your studio maternity session? Check out all the details here.
If you or someone you know is looking for artistic newborn photography, please contact us today for your customized session!
Dazzling Light Photography | 512.508.9067 | DazzlingLightPhoto.com
info@DazzlingLightPhoto.com | Check out our Facebook page!