Hello out there! We've got a super sweet newborn session to share with you that features the fabulous Arrington-Miller family, who we photographed not too long ago for their maternity session. If you haven't seen their gorgeous portraits, check out that post here.
We were so excited to meet baby Cairo! At just a few weeks old, he had a head of curly hair and the cutest little smile. Look at those newborn portraits and tell us you aren't suddenly overcome with love!
First of all, can we talk about the outfits they all wore? Even Cairo looked adorable in his little swaddle.
We asked mom, Miranda, about how they prepped for this shoot. She told us, "We took your advice and went with blues and coordinating colors." A girl after our own heart! As a result, all that planning definitely paid off, don't you agree?
Everyone was so happy at the session, and there was even a tear or two shed (of joy). Dad Clay was overjoyed to finally be holding his little man, mom Miranda couldn't stop smiling, and all Cairo's big sisters just adore him. Don't they make an adorable family of 7?!
Cairo's momma loved her reflection maternity portrait so much, we did another at the newborn session of her holding baby boy. We used our creative skills to create this masterpiece. How precious is this?!
Mom is a huge Star Trek fan, so she brought a blanket to the session that we used. We also surprised her with an art piece we created, complete with the Enterprise, captain's log, and all our favorite characters!
Finally, enjoy a few more of sweet Cairo below. Because we just couldn't narrow this session down, you'll get to enjoy all the sweet smiles of this guy.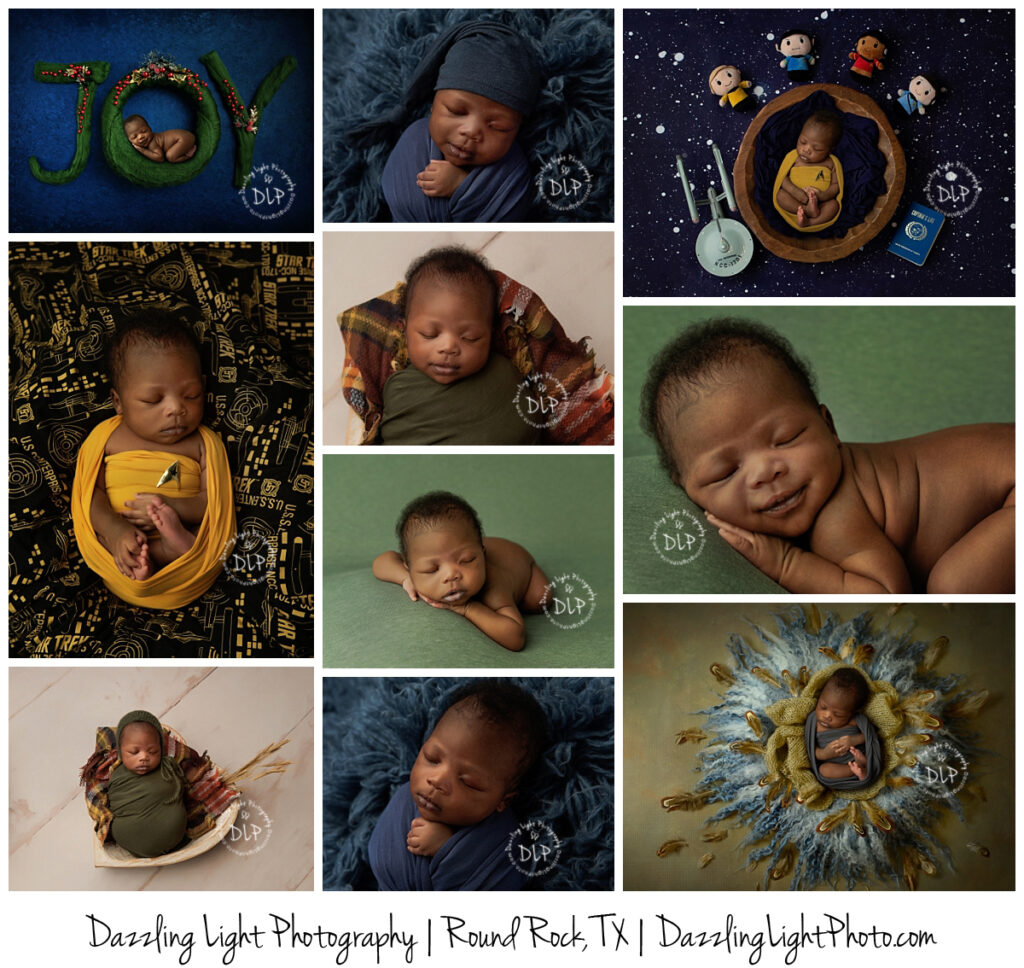 You may be seeing more of little baby Cairo in the very near future because we're lucky enough to photograph him every few months with our Keepsake Collections Baby Program. Check out the details on that HERE!
If you or someone you know is looking for artistic maternity and newborn photography, please contact us today for your customized session!
Dazzling Light Photography | 512.508.9067 | DazzlingLightPhoto.com
info@DazzlingLightPhoto.com | Check out our Facebook page!